Shuttle Directions for Whitewater Rafting on the California Salmon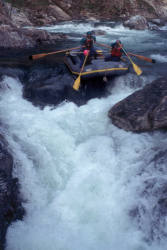 The California -Salmon is located about 50 miles east of Eureka in Six Rivers National Forest. The following shuttle directions will give you access to put-in in the town of Forks of Salmon and Take-out at Somes Bar near the confluence of the Salmon and Klamath rivers. The best way is to all rendezvous at the take-out, transfer gear out of the cars remaining at take-out and then travel 17 miles to put-in. Don't forget to leave warm dry clothes and maybe some snacks in the take-out vehicle.
Photos courtesy of All-Outdoors California Whitewater Rafting

Somes Bar Take-out
From Eureka, drive approximately 50 miles east on California Highway 299 until it intersects with Highway 96 near Willow Creek. Go north on Hwy 96 and drive 45 miles to the town of Somes Bar at the confluence of the Klamath and California Salmon. Turn right onto Salmon River Road. The most popular Take-out is at Oak Bottom Campground (river mile 15.7)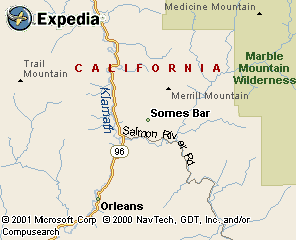 maps.expedia.com

Forks of Salmon and Nordheimer Camp Put-in
From Oak Bottom Campground, continue driving along Salmon River Road until you reach the town of Forks of Salmon. There is a good put-in at a gravel bar just downstream from the school in Forks of Salmon. An alternate Put-in is at Nordheimer/Crystal Springs campground located on the left side of Salmon River Road approximately 13 miles from Highway 96, before you reach the Forks of Salmon.